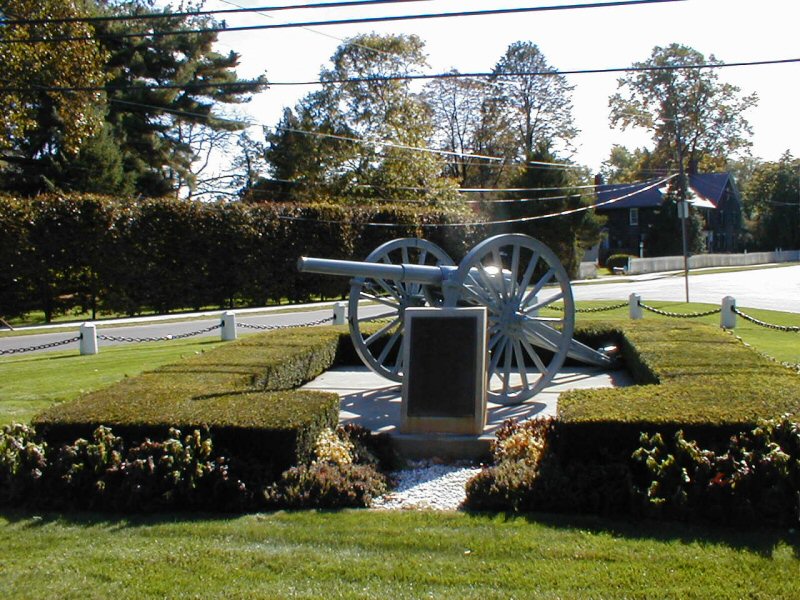 For information on the Memorial "Triangle" in which the honor roll plaques pictured here are sited, click HERE.
At the intersection of South Country and Fire Place Neck roads in the hamlet of Brookhaven, NY, is a small triangular shaped park commemorating  residents of the community  who have served their country in our Nation's wars.
A memorial cannon was place in the park after the end of the the Great War (World War I). A record of when it was actually placed there has not been found, although most likely it was 1920.  The cannon is a Model 1885 3.2-inch breech-loading field rifle, nicknamed "the grasshopper."  It was manufactured in 1887. A detailed report on the cannon may be found HERE.
A plaque honoring those who participated in the war was added in 1920/23.  While the plaque is dated 1920, minutes of the Brookhaven Village Improvement Association (now Brookhaven Village Association) indicate that it was not actually dedicated until July 4, 1923.
A chain from the "Bessie A. White" which sank off Smith Point in 1922 was added as a fence in 1932-1933.
After World War II and subsequent military actions—Korea, Vietnam, Iraq/Afghanistan—additional plaques honoring local resident's participation were erected.
In 2014, a project sponsored by the Fire Place History Club, Brookhaven Village Association, Brookhaven Fire Department, and the Post Morrow Foundation was initiated to honor community members who participated in earlier wars—the Revolutionary War, the War of 1812, the Civil War, and the Spanish-American War; this plaque was dedicated on Memorial Day, 2015.
The site is now the location of the Hamlet's annual Memorial Day ceremonies.
More on the history of the Memorial Triangle Park site may be found HERE.
Names in RED are linked to entries the Hamlet People database [ds] = Died in service
Four War Plaque
Revolutionary War, War of 1812, Civil War, Spanish American War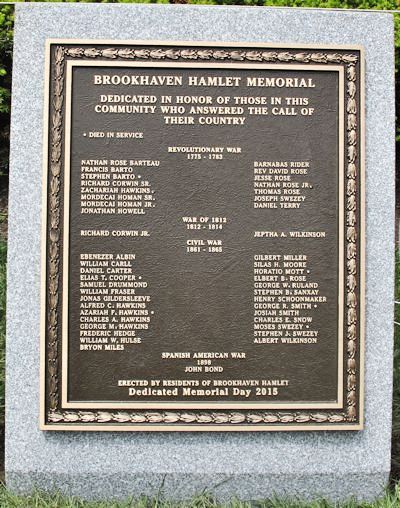 Arguably, our nation's history began with the battle at Lexington and Concord on April 19, 1775 – the beginning of the Revolutionary War. By then most residents of Fire Place, which was Brookhaven and South Haven hamlets name at the time, were already on board the movement toward independence. A year earlier there had been a meeting at the South Haven Meeting House where they voted to support the unification of the colonies and to boycott Great Britain. And when war broke out, those who could serve joined the patriots under George Washington's leadership.
One such man was Lt. Thomas Rose, who died during his military service, on April 3, 1780. It is unknown if he was killed in action. Lt. Rose served with his brothers, Captain Nathan Rose Jr. and Jessie Rose, and their nephew, Nathan Rose Barteau. Their ancestors were the first verifiable settlers on Fire Place Neck.
Another commemorated veteran of the Revolution was Richard Corwin, whose house still stands at 408 South Country Road. He was a personal aide to General George Washington. Corwin was present at the battle of Yorktown and the surrender of Cornwallis. Washington once tested his fidelity as a guard by attempting to pass him in the night but Corwin would not allow Washington to pass. Corwin's son, Richard Jr., was a veteran of the War of 1812.
Thanks to a grant obtained by Suffolk County Legislator Kate Browning, four groups – the Brookhaven Village Association, Post Morrow Foundation, Fire Place History Club and Brookhaven Fire Department – worked to install a plaque at the memorial park commemorating the veterans of our nation's four earliest wars—the Revolutionary War, War of 1812, the Civil War, and the Spanish American War.
Civil War
We have attempted to provide as complete a listing as possible of those residents of Brookhaven and South Haven hamlets who were in the military during the Civil War.  However, as with the Revolutionary War, it needs to be emphasized that official records of the period are often vague, including residency (for example, residency was often given as "Suffolk County" or "New York"),  there were multiple individuals with the same name, and name spellings are particularly ambiguous and variable. 
In order to be as complete as possible, all males found in the 1860 census of Brookhaven and South Haven hamlets of an age that they could have possible been in the military during the Civil War were researched.  To see report, click here (pdf).
In addition, other individuals who may not have been a resident of the hamlets immediately prior to the war, but who were residents of the hamlets after the war and for whom their family history revealed military participation in the war were included.
The research included a review of several other important compilations of Civil War Veterans, particularly:   the Town of Brookhaven entries in New York, Town Clerks' Registers of Men Who Served in the Civil War: 1866,  New York Registers of Officers and Enlisted Men Mustered into Federal Service, 1861-1865; and the compilation found in Munsell's Suffolk Co. History: 1882.
EBENEZER ALBIN
WILLIAM CARLL
DANIEL CARTER
[ds]ELIAS THOMPSON COOPER
SAMUEL DRUMMOND
WILLIAM FRASER
JONAS GILDERSLEEVE
ALFRED CONKLIN HAWKINS
[ds]AZARIAH FRANKLIN HAWKINS
CHARLES AUGUSTUS HAWKINS
GEORGE M. HAWKINS
FREDERIC HEDGE
WILLIAM WARREN HULSE
BYRON MILES
GILBERT MILLER
SILAS HENRY MOORE
[ds]HORATIO MOTT
ELBERT B. ROSE
GEORGE W. RULAND
HENRY SCHOONMAKER
STEPHEN BROWN SANXAY
[ds]GEORGE R. SMITH
JOSIAH SMITH
CHARLES E. SNOW
[ds]MOSES SWEZEY
STEPHEN JARVIS SWEZEY
ALBERT WILKINSON
ALBERT WILKINSON
World War I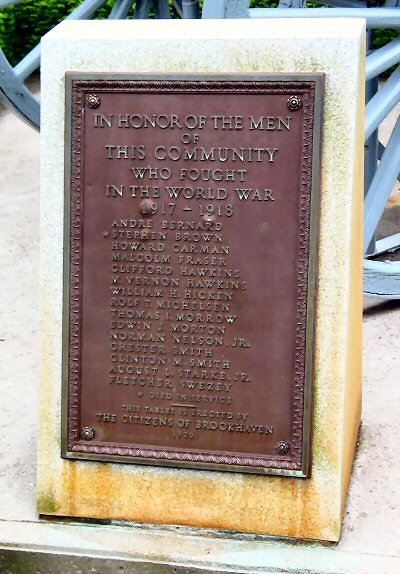 World War II 1941-1945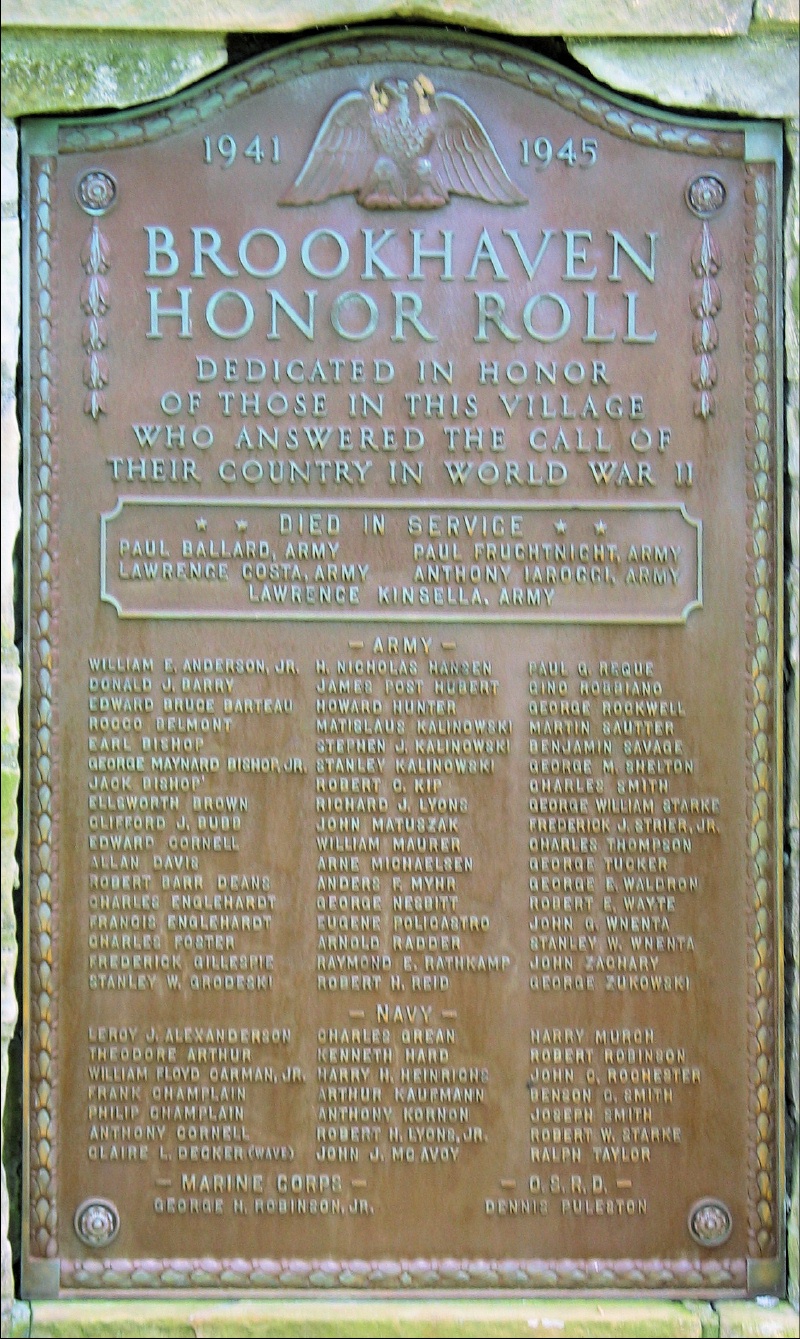 Patchogue Advance, 22 May 1952, p. 1
Memorial Day Planned; Plaque to Be Dedicated
Helen M. Ewing
BROOKHAVEN — Arrangements for the usual Memorial day observances here are being planned by Post 8137, Veterans of Foreign Wars, and this year there will be an especially interesting event.
It is expected that the bronze plaque, bearing the names of pome 70 people who served in the armed forces during World War II, which has been arranged for by the VFW and made possible by the Brookhaven Village association, will be ready and will be dedicated on that day. Everyone is invited to attend the ceremonies at the village park at 9:30 a. m. Participants in the parade are to be at the firehouse at 9 a.m.
Among those who have been invited to join with the VFW are the fire departments of Brookhaven, Bellport, Hagerman and Yaphank; the Bellport High school band; the South Bay Post VFW color guard; the school children of Brookhaven and Southaven ; the Boy Scouts, Girl Scouts, Cub Scouts and Brownies. Ralph B. Maust is commander of the post and Charles B. Foster is chairman of arrangements for Memorial day.
Korean and Vietnam Wars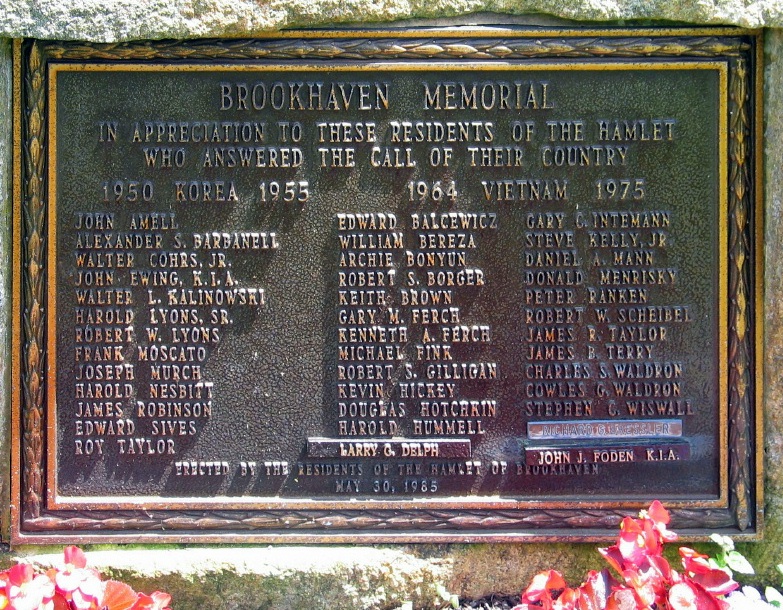 Vietnam War 1964-1975
EDWARD BALCEWICZ
WILLIAM BEREZA
ARCHIE BONYUN
ROBERT S. BORGER
RICHARD G. BRESSLER
KEITH BROWN
LARRY G. DELPH
GARY M. FERCH
KENNETH A FERCH
MICHAEL FINK
[ds]JOSEPH FODEN
ROBERT S. GILLIGAN
KEVIN HICKEY
Iraq/Afghanistan (The War on Terror in Iraq and Afghanistan)