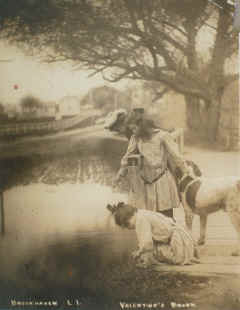 The McKeown Sisters at Valentine's Brook
This photograph is said to be of the three McKeown sisters—Anna, Elsie, and Bertha, all of whom grew up on Bay Avenue in Brookhaven. Bertha, the youngest, is in the foreground. Their parents were William and Anna Knies McKeown. It is said that the picture appeared in Harpers Magazine early in the 20th century. The location is the "goin' over" of South Country road at Beaver Dam Creek, looking west.
♦ Historic Sites Table of Contents (an inventory database of over 100 sites in Brookhaven & South Haven Hamlets, their historic significance, photographs, and other links. Many of these sites are linked to the people most prominently associated with them.
♥ About the Site Histories database
♦ Historical Miscellany [click for full listing] (brief "sketches," research projects, newspaper clippings, first hand accounts, etc., on the "history" of Brookhaven & South Haven Hamlets. It's more or less an on-line "scrapbook." A companion volume focuses on the people.)
♥ Shaw's History of Fire Place/Brookhaven (A paper written by Brookhaven Town Historian Osborn Shaw for the Fireplace Literary Club, and read by him at the Brookhaven Free Library, October 5th, 1933. It is arguably the most comprehensive history of Brookhaven hamlet.)
♥ Brookhaven & South Haven Honor Rolls (remembering those who have served their country from the Revolutionary War to modern times (includes status of 2004-2005 community project to honor the Revolutionary War, War of 1812, Civil War, and Spanish-American War.)
♦ Hamlet People Database (genealogies and historical information of the families of Brookhaven and South Haven Hamlets.)
♦ Biographical Sketches (short "sketches," news clippings, first hand accounts, etc. on the people of Brookhaven & South Haven Hamlets. Another on-line "scrapbook" similar to the historical sketches section. They are linked to entries in the Hamlet People database.)
♦ Miscellaneous (material that could not be conveniently categorized into any of the above volumes.)
Records of the Town of Brookhaven Before 1800 (a selection of entries in the Town records of particular relevance to Brookhaven and South Haven hamlets.)
Some Early Censuses (these are actually in a separate "volume" and consist of searchable databases of the 1790, 1850, and 1860 censuses for Brookhaven and South Haven hamlets. With the availability of on-line censuses, completion of this volume is now a low priority.)