From: Portrait and biographical record of Suffolk County (Long Island) New York. Containing portraits and biographical sketches of prominent and representative citizens of the county. Together with biographies and portraits of all the presidents of the United States. (Chapman Publishing Co., New York. 1896)
NATHANIEL MILLER is one of the thrifty and substantial farmers of the town of Brook Haven, where he has passed the eighty years of his life. Personally he bears a high reputation for honorable and upright dealings with his fellow-men, and is always found in the front rank in works of improvement and public benefit.
Mr. Miller was born in Brook Haven, near where he now resides, September I5, 1815, the son of Dr. Nathaniel and Sarah (Havens) Miller, the former of whom was born at East Hampton, April 17, 1783. He was in turn the son of Elisha and Abigail Miller. His academic education was acquired in Clinton Academy, and when ready to prosecute his medical studies, he entered the New York Medical College, from which he was graduated. His practice as a physician in this place began in 1812 and ended in 1836. He was a prominent man and an acknowledged authority among the physicians of his day. In 1818 he was elected a member of the General Assembly, and again in 1849, and while a member of that body was the means of pushing forward many measures which were of benefit to his constituents. His wife was Sarah, daughter of Capt. John Havens, of Moriches. To them were born seven children, all of whom were living at the time of his death. They were named respectively, Nathaniel, Mary A., Caroline E., Jerusha K., Sarah, Laura C. and Julia. Those now living besides our subject are Jerusha, a resident of Port Jervis, N. Y., and Sarah, who makes her home in New York City. Dr. Miller departed this life May 7, 1863, and his estimable wife closed her eyes in death in October of the same year.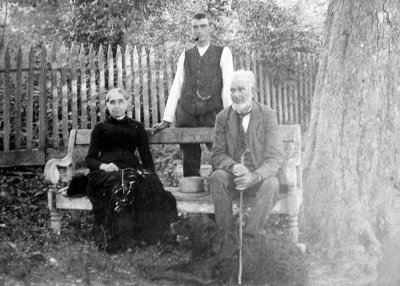 The subject of this sketch attended the district school in his youth, after which he was sent to a boarding school, where he prosecuted his studies in the higher branches. He remained under the parental roof until the age of eighteen, when he clerked for a time, and then went to New York City and obtained a fine practical business education. In 1837 we find him in Florida, and for the following eight years he remained in the South. At the expiration of that time he returned to New York City and engaged in business, but soon, owing to failing health and his dislike of city life, he went West to California. This journey was undertaken in 1848, and to Mr. Miller is given the distinction of erecting the first building on Battery Street, San Francisco. He was one of the organizers of the first vigilant committee in that city, and in numerous other ways he was found in the front rank in the work of improving the city.
In 1853 Mr. Miller returned to his native state and since that time has made his home in Suffolk County, where he has been actively engaged in agricultural pursuits until within the last few years, when, on account of old age, he has given the work of running the farm over to younger hands and is exempt from labor. He is honorable in all his dealings with his fellows and has been faithful to every trust reposed in him. He has been administrator to perhaps thirty estates in the past forty years, and although now well advanced in life, has under his charge several large estates which he is settling up.
In 1853 Mr. Miller was united in marriage with Miss Ellen, daughter of Capt. Samuel Carman, a prominent and worthy citizen of the town of Brook Haven. Eight children came to bless their union, of whom three now survive, viz: Frank, engaged in business in New York City; Clinton, a citizen of the town of Brook Haven, and George, at home with his parents. Mrs. Miller is a devoted member of the Presbyterian Church, while her good husband holds membership with the Episcopal denomination, which he is serving in the official capacity of Trustee. In politics he is a Democrat and an ardent admirer of Grover Cleveland. He has creditably served as Supervisor of his town, holding the office until he absolutely refused to longer serve. His son Clinton is at present the efficient Collector of the town, having been elected to his position by a handsome majority, although the town was largely Republican. The Miller family is among the oldest and most prominent of Long Island, and we are greatly pleased to be able to herewith present the popular representative to our readers.