The Rev. Abner Reeve and a Strange Coincidence
Richard A. Thomas, February 2008
On November 12, 1995, the Rev. Dr. Larrimore C. Crockett of Brattleboro, Vermont, gave a sermon at the Guilford Community Church for "Abner Reeve Sunday." Abner Reeve was the second recorded pastor of the South Haven Parish, Town of Brookhaven, New York. (He followed Nehemiah Greenman who had not found service to the small rural communities along the south shore of Long Island to his liking, so he had gone to New Jersey in 1749.)
Abner Reeve was born in Southold, April 22, 1708, and was the first child of Thomas Reeve, a blacksmith, and Bethia Horton. His mother died when he was nine, and his father remarried in 1719. At the age of 24, in 1731, Abner Reeve graduated from Yale. After studying for three or four years under Rev. Benjamin Woolsey, the town minister of Southold, Mr. Reeve was licensed to preach in 1735 by a group of ministers and began preaching in Smithtown at Nissequoge. However, he succumbed to the temptation of "ardent spirits" and was "laid aside" for intemperance.
Mr. Reeve then came under the care of Mr. Throop, the new minister of Southold Town, and "was led, by his faithful care and ministration, to repentance, and was admitted to resume his license by Suffolk Presbytery

, they being satisfied there was a saving change in him."

On Oct. 23rd, 1754, Suffolk Presbytery:
"Took into consideration the case of Mr. Abner Reeve, originally of Southold, who, though formerly a licensed preacher, had been for a considerable time laid aside on account of intemperance and excessive drinking. He, having hopefully experienced a saving change, and being very desirous of preaching the gospel to others, the power of which he hoped he had experienced in his own soul, upon proper penitential reflections upon himself, and a visible reformation, was countenanced in his desires, and encouraged to preach by the ministers in Southold, and by them directed to attend this our session for the approbation and advice of the Presbytery. Application being made to us by the said Mr. Reeve, we, upon suitable inquiries made into his case, and hopeful evidences discovered of the reality of his change, and sincerity of his desires to preach the gospel, approved of his preaching."

Mr. Reeve was appointed to preach at a newly established parish, sometimes called Fireplace and Moriches, sometimes Fireplace, Moriches and Ketchabonock. There was no meeting house at Moriches, but there was one in Fireplace (South Haven) and another at Ketchabonock (Westhampton/Westhampton Beach). This second meeting house was called the Western Meeting House as it had been established by Southampton Town at its western border

.
On Nov. 6th, 1755, the Presbytery met at Moriches, then adjourned to the Western Meeting House in Ketchabonock and ordained Mr. Reeve as pastor of the congregation of Ketchabonock, Fireplace, and Moriches.
At a meeting of the Presbytery, Oct. 27th, 1761, the eastern part of the congregation [that is, Ketchabonock] made a complaint against Mr. Reeve, of his "having fallen foully into the awful sin of drunkenness, and requested that they might be dismissed from his charge, and set off as a separate parish."
The Presbytery postponed both requests, "as the other part of the parish had not been consulted."
"Mr. Reeve freely and fully acknowledged the fact (as before he had done to his congregations severally) and also proposed to make satisfaction to the several churches and congregations within the Presbytery, and further if thought proper — as far as a severe reflection and penitential confession will answer that end."
In October 1762, Ketchabonock renewed its requests, Rev. Reeve's efforts at reform having apparently not been wholly successful, and the pastoral relation was dissolved soon after. Also, South Haven and Ketchabonock were set off as separate parishes, and the Presbytery of Suffolk County met at South Haven in March 1763.
A couple of years later Rev. Reeve moved to Blooming Grove in Orange County, New York. In 1769, he left the jurisdiction of the Presbytery there and helped organize a Congregational Association, the first in the New York colony. In 1770, at age 61, he moved to Brattleboro, Vermont, and became the first pastor of two small congregations, one at Guilford, and the second in Brattleboro.
Now we come to the strange coincidence:
As Rev. Crockett was beginning his preparation for "Abner Reeve Sunday" at the Guilford Community Church in 1995, he discovered that two members in his congregation were from Long Island. The mother of one had lived across the road from the South Haven Church and had played the organ there, and the mother of the other had been married in the church. The mother who had been married in the church was Beryl Newcombe, who married J. Garrison "Gary" Borger. Gary's family had moved to Long Island from Pennsylvania sometime before 1930 where his father got a job as foreman of the game preserve on the Carman's River at South Haven (The Suffolk Club).
The woman who played the organ was Gary's sister, Etna Borger. Their brother, Amos Caldwell Borger, joined the South Haven Church in August 1953. Another sister, Bertha, had married Paul Kresge, who ran Kresge's Alignment Service at 540 East Main Street in Patchogue. He sold the business to his nephew, Etna's son, Dale Oles, who, in 1970, first moved it to 1184 Montauk Highway in East Patchogue, then moved the business to Guilford, Vermont, in 1978.
Abner Reeve died in Brattleboro and was buried in the cemetery on Meeting House Hill. His headstone reads: "The Rev. Abner Reeve Died May 6, 1798, in the 91st Year of His Age."
The land that was originally given to Rev. Reeve by Brattleboro so that he might become their first pastor, and where he lived and farmed, is now owned by the Brattleboro Retreat, a center for alcohol rehabilitation.
Deborah Tapping, Abner's second wife (he had four), died in 1759, and was buried at the South Haven Church burying ground. Her gravestone was extant in 1938, but by 1992 was totally destroyed. A son, Tapping Reeve, married the sister of Vice-President Aaron Burr and in 1784 established the first law school in the United States at Litchfield, Connecticut.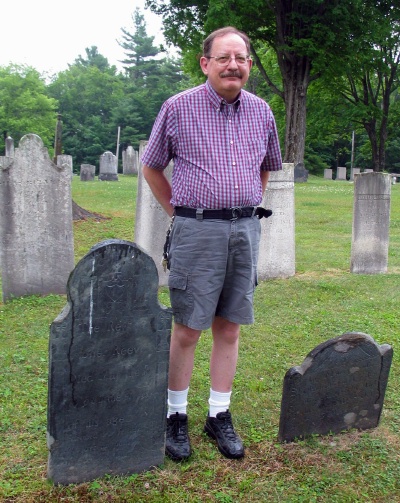 Dr. Thomas at the Abner Reeve gravesite, Meeting House Hill cemetery, Brattleboro, VT.