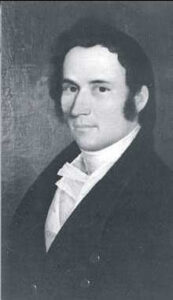 William Edward Woodruff, Sr. was born on 24 December 1795 at Fireplace, Town of Brookhaven, Suffolk County, New York. His parents were Nathaniel and Hannah (Clark) Woodruff.  There is evidence that Nathaniel and Hannah removed to Fire Place from Bridgehampton, Town of Southampton, Suffolk Co., NY in 1780, suggesting that Nathaniel was a descendant of John Woodruff (1604-1670), one of the original settlers of Southampton, but I have not yet documented the connection.

The Woodruff farm was on South Country Road at the western edge of Fire Place, just east of Mott's Brook and the present Village of Bellport boundary.  The Woodruff homestead has Historic Sites ID Br15. There is also a small family cemetery on the site, identified as Historic Sites ID Br15.1-S and #17 on the Town of Brookhaven Historian's Cemetery List.
His maternal grandfather, William Clark, was a Revolutionary War soldier captured by the British.  He was a prisoner of war on the notorious prison ship "Jersey." He served in Col. Josiah Smith's and Col. Drake's regiments. He probably also served in Westchester Co.
From the Brooklyn Eagle obituary for William Clark's grandson, Mills Clark:
"William Clark, was first lieutenant of Captain Selah Strong's company of militia men in 1776, the regiment being known as the Brookhaven Company. Lieutenant Clark's house at Middle Island was surrounded one night by British soldiers and Tories, but upon the alarm given by a faithful slave, Clark escaped to a dismal swamp. He was finally captured, however, and placed in the Jersey prison ship in Wallabout bay. After peace was declared, Lieutenant Clark was released, but on his way home he was taken sick and died, having never seen his family after escaping his house and hiding in the swamp."
William Edward Woodruff's father died when he was 13 years old.  At 15 (1810), William apprenticed to Alden Spooner, the well known New England printer.  Spooner had immigrated to Long Island, and from 1804 to 1811, published the Suffolk Gazette at Sag Harbor (then the major port on eastern Long Island).  Not being able to make a living in sparsely populated eastern Long Island, Spooner then traveled to the other end of Long Island, to the growing village of Brooklyn, where he took over the Long Island Star. It was there that Woodruff obtained a principal part of his education. During his apprenticeship, the War of 1812 occurred and and in 1815 he enlisted in the reserve corps but continued his work at the printing office.  He applied himself faithfully to the printing trade and became thorough in it.  Upon completion of his apprenticeship in 1816/1817, he worked for a time with a New York book publisher.
Woodruff then decided to leave New York and try his fortune in the west. Making his way to the Ohio River (probably overland across Pennsylvania), he and a companion bought a canoe and made their way down the Ohio River to Louisville, KY., then overland across Kentucky to Franklin, Tennessee near Nashville.  He worked in Franklin for a time as a journeyman printer.
In 1819, he decided to go into the new Territory of Arkansas and establish a newspaper at the Arkansas Post, the provisional capital.  He purchased a small printing press with his savings.  He traveled  first overland to the Cumberland River, and then by boat down the Cumberland River to the Mississippi, and then to Montgomery's Point at the mouth of the White River.
At that time the only trail to the Post was a bridle path.  There were no work teams to buy or rent, and even if there had been, it would be impossible to get a wagon through the swamps and forest.  Up to this time, steamboats had not attempted the Arkansas River, and even flatboats and keelboats were rare.   Mr. Woodruff bought two dugout canoes and lashed them together.  With the aid of two hired boatmen, he poled and dragged these canoes, loaded with printing equipment up the Arkansas [River] and to the Post.
The trip from Franklin, TN to the  Arkansas Post took three months, arriving on 30 October 1819.
He went to work and located a log cabin and on Saturday 20 November 20 1819, the first number of the Arkansas Gazette made its appearance. He began without a single subscriber, but was encouraged by the people of the village to carry on the good work. The paper was issued on Saturdays and people came by and picked up their copies, eager for news even if a month old.  He set the type, did his own presswork, edited the paper, was his own business manager and sold subscriptions for $3.00 a year in advance or $4.00 at the end of the year. It is not surprising that he advertised in the first issue:
 AN APPRENTICE WANTED a lad from 14 to 16 years of age, respectable connections, and of studious and industrious habits is wanted immediately at this office, as an Apprentice to the Printing Business.
From that time on, the paper and hence the family became a powerful voice in the Territory and the State guiding and molding public opinion. It remained the only paper in the state until 1830.
When Little Rock was made the capital of the territory, he moved the paper there. The last number of the paper at the Post was printed on 24 November 1821, just two years after its first appearance.
In Little Rock he boarded with the Chester Ashley family and here began a friendship that lasted during the lifetime of Mr. Ashley. When a man named Garrett tried to shoot Mr. Ashley, William protected him and received a bullet in his arm, leaving an ugly scar.
William met and married Jane Eliza Mills, "The loveliest maiden in the village," on 14 November 1827.  "They were rarely apart and always congenial companions through fortune and misfortune which came to them in later life. Their home was a center for pleasant social gatherings, and their children and grandchildren looked back with great pleasure on the happy days spent in the old home."

  Jane Eliza was born 10 February 1810 in Louisville, Kentucky. She was the daughter of Ann Elizabeth (Toncray) and Abraham Mills. Abraham died in Kentucky in 1810 and Ann Elizabeth later married a Mr. Keesacker in 1814; he died in 1825. She later moved to Little Rock and lived there until her death on 19 March 1842.
William E. Woodruff died on 19 June, 1885, in his ninetieth year. His wife survived him by less than two years, dying on 27 February, 1887.