Before the arrival of the rail road, travel between eastern Long Island and New York city and Brooklyn was arduous. Regularly scheduled packet sloops between major communities on the north shore and east end sailing to New York and Connecticut were available. Packet sloops were much preferred to overland travel, both for their speed and comfort, in spite of the occasional storms that could make travel dangerous and uneasy. As far as I have been able to determine, there were no regularly scheduled packet sloops sailing from Patchogue to western Long Island and New York City, although I suspect passage could be arranged on one of the many freight sloops operating along the south shore, including some who had docks along the Carman's river—Squassux Landing, Barteau's at the mouth of Yaphank creek, and some said further upstream near South Haven.
However, long distance and local stages were apparently quite common. The 1826 newspaper advertisement below was for a route of particular interest to the residents of Fire Place.
In 1844, what we now know as the Main Line of the Long Island Rail Road was completed. The entire trip from Brooklyn to Greenport took only 3½ hours (it now takes about 3 hours). The original route had a "Bellport" station stop 2½ miles east of Medford (1844) specifically to meet stage coach service to the village; Bellport Station road originally terminated at this station. Later, a station was established at Yaphank (1845). After these dates, a station stage or private transportation would be taken between one of these stops and Fire Place or Bellport.
In 1884, the South Shore Railroad (now known as the Montauk Branch) was extended through Eastport and then to Montauk (1895). Stations were established at Brookhaven and Bellport (1882). It is after this date that summer and even some commuter residency blossomed in the area. Visit here for more on the Brookhaven station.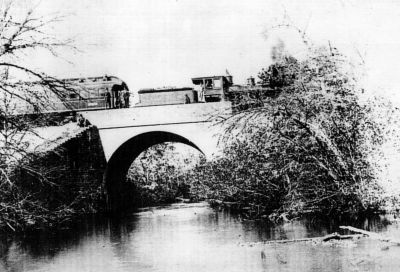 Main Line Long Island Rail Road Bridge over the Carman's River east of Yaphank station about 1900
FIREPLACE AND PATCHOGUE STAGE
The subscribers in connection with E. Dodd, and Seamon,
have commenced Running a line of
STAGES
Between BROOKLYN & FIRE PLACE
once a week, under the following regulations:—
To start from the house of Mr. Samuel Carmons [sic], at Fireplace every Wednesday Evening at 5 o'clock and lodge at the house of the subscriber, in Patchogue, that night, and leave the house of the subscriber at 5 Thursday morning, and arrive at Brooklyn at 4 o'clock P. M.—Returning leave the house of Coe S. Downing at Brooklyn every Saturday morning at 7 o'clock A. M. and arrive at PATCHOGUE the same evening.
Passengers will be carried to any part of Long Island on the most favorable terms by the SUBSCRIBER from Patchogue.
The company having furnished themselve with new and comfortable Carriages solicit a share of public patronage, as they are determined that nothing shall be wanting on their part to make the route agreeable.—Fair from Brooklyn to Fireplace $2.25, to Patchogue $1.75
JAMES WOODHULL & CO.
Patchogue June 1, 1826
Advertisement originally appeared in the Corrector (Sag Harbor) and was reproduced in: James Truslow Adams, Memorials of old Bridgehampton (Bridgehampton, NY: Privately Printed, 1916), p. 163.