The following is a history of Locust Rd., Brookhaven Hamlet, NY written by Susan David

while a 4th grade student at the Hampton Avenue school. The pictures are crayon drawings of the houses as they appeared in 1976. Also provided are links to pictures of the house as they appear in 2002, and in some cases a history and old pictures of the houses
I am also working at enhancing her story and independently documenting as many of her "facts" as possible. The note icon () will take you my comments. One of the nice things about publishing through web pages is that you don't have to wait until all "i's" are dotted and "t's" crossed before publishing — and as I get additional information, or find I got something wrong, it's easy to change. So let me know (email bottom of every page) if you know something I don't — which I'm sure is often the case.
It should be remembered that the people in the various residences are as they existed in 1976. Many have moved or are now deceased. As is often customary, I have named the houses after their first occupants. I've also added numbered street addresses, which are a relatively recent development, perhaps about 1978/80

.
HISTORY OF LOCUST ROAD, BROOKHAVEN
"Locust Rd. began

when Chauncey Sweazy cut a road through his property so that it could be developed. The road was marked by locust posts along each side.
"I would like to thank Everett Swezey, Fred Strier. Louis Decker, Mr. and Mrs. Alex De Hond and Mary David for their help."
Susan David (age 10) wrote a history of Locust road, Brookhaven hamlet, NY, while a 4th grade student at the Hampton Avenue school. She prepared maps of the street as it was arranged in 1926, 1946, and 1976. Her history and maps were based on interviews with residents then living on the street.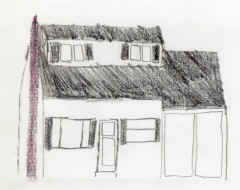 "Mr. George Olish, a nurseryman, bought land from Everett Swezey and built a house around 1953 and started his business on six acres."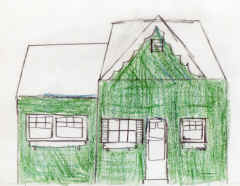 Elaine [sic, actually Claire] Pongonis bought land from Chancey Swezey and sold it to John Vassel who had William Wingraf build him a house.

The Vassels sold it to John and Kathy German.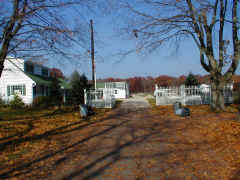 North End of Locust Rd.
The "Olish" Nursery is north of the fence.
20
"Vassel" House
2002 picture
31
"Decker" House
2002 picture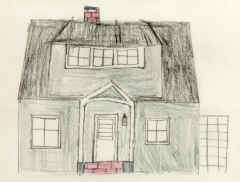 "Louis Decker bought land from Chauncey Swezey and started to build himself a house in 1926. The upper part of Locust Rd. was all mud from a stream which has since disappeared. At that time the Deckers were living in a three-room converted garage down the street. They moved into the new house about 1927"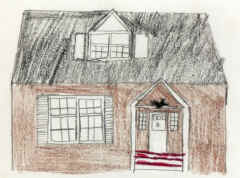 "Mr. Schumacher bought this land from Everett Swezey. He hired a potato farmer to build him a house in about 1950. This house was built with some materials from the 1938 hurricane he stored in Mastic. When Schumacher died he left his house to his niece who sold it to Charlie and Dorry Quappe."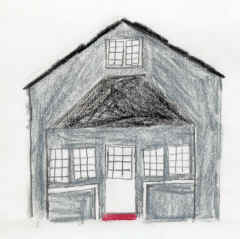 "Everett Swezey and Ed Phillips built a house for for Louis McFarland in 1926. Mr. McFarland was a barge captain who drowned. Some people said that by bootleggers he was pushed into the water. The house was sold to Mr. Decker's mother-in-law who willed it to Mrs. Decker. The post master Mr. Lyons rented this house for many years. And now Mouron Boylston rents it."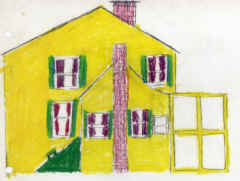 "About 115 years ago this house was built for Sylvester Corwin. Chauncey bought the house and six acres from Hampton Corwin. When Everett Swezey was born in 1894 his father rode a horse to Yaphank to get the doctor. He said the snow was up to the horses belly and it took most of the day. Chauncey did some farming and had chickens, cows, pigs and a horse. In the winter he worked at the Coastguard station at Smith's Point. After his parents died Everett tried to rent the house but couldn't make enough to pay the taxes, so he sold it to Robert Engelhardt who sold to Contor who sold to Michels. Now Don and Regina David own the house."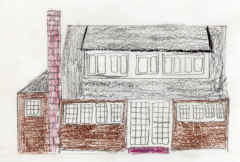 "In 1926 George Reeves, a bay man, built this house with the help of Sam Bumstead. Mr. Reeve's daughter sold it to Mrs. Russel who lived in it, then rented to Nguryn and Monika Hien. Then Mrs. Russel's estate sold it to Nick and Neva Delihas."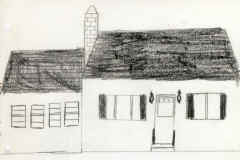 "Bill Swezey built this house about 1960. He, Hazel and their daughter, Robin, moved here from Patchogue."
10
"Bill Swezey" House
2002 picture
13
"H. Corwin" Cottage
Historic Side ID 32A.13-S
1928 picture


2002 picture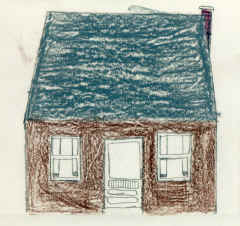 "Harvey Corwin bought a lot from Chauncey Swezey and built a small house which had no plumbing except for a hand pump. When Mr. Corwin died in the Suffolk County Infirmary Mr. Bishop bought the house and used it as a summer house. Rufus Robinson rented from Bishop for ten dollars a month. The neighbors complained that he threw his slops in the street. He died in 1960. In 1974 Mr. Bishop sold the house to Larry and Linda Cox."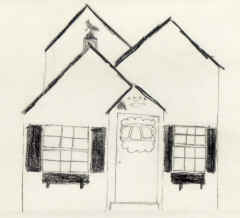 "Fred and Mildred Strier bought this house from Downing Murdock in 1947. They sold it to Virginia Lowe who added to the house and lives there now."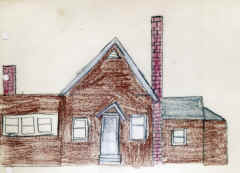 "Everett Swezey built his house in 1939 from drift wood washed ashore in the 1938 hurricane. He and his wife moved from the corner house into this house. Later Fred [Strier, Sr.] and his wife moved in to share the house with Everett and Lila."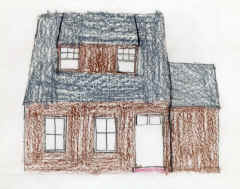 "Chancey Swezey sold this house to Captain George Holley of Port Jefferson. He sold it to Will Murdock who left it to his daughter Velzora Barry. She died in 1976 and her children are renovating the house to rent it."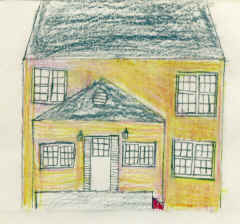 "This was first a two-car garage later converted into a three-roomed house. In 1927 it was moved by one man only with Mrs. Decker still inside. It was from where the De Honds house is now to a new foundation [#5 to #7]. Everett Swezey, the owner, sold it to Marcus and Mildred Haley. Marcus went to Florida and got a divorce. He lost his life saving a boy from being electrocuted. Then Mildred married Fred Strier in 1945. After they lost the house, Frank Simpson bought it. Later he sold it to John and Jean Deitz, who enlarged the house. (In 1924, the Deckers payed 8 dollars a month rent.)"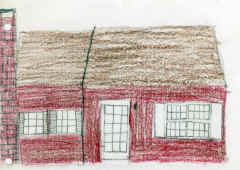 "This house was built about 1738 on Beaver Dam Rd. Egbert Swezey lived there. He gave it to Everett and Lila Swezey as a wedding present. Lila thought it was too small and old. So they moved it back and Everett built a bigger house in 1927 and moved there. Dorothy Totten bought the house and sold it to Mr. and Mrs. Alex De Hond."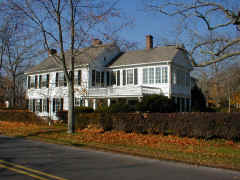 The "John Warren Swezey" House at 331 Beaverdam Rd. was built about 1850/51. The original road to the "Corwin" farm passed to the left of this house.
Pictures & History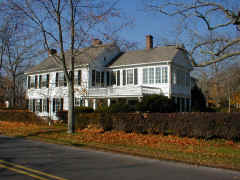 Locust Rd. at Beaverdam Rd. Looking North
The houses left and right are as viewed from the about the same point as this picture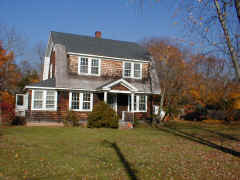 The "Everett Swezey" House at 335 Beaverdam Rd, built abt. 1927 when his wife, Lila, thought the "1740" House now at 5 Locust Rd. (above) was too small. They eventually moved to the small house at 8 Locust Rd.