Chain Around the Memorial Park
Chain Around Our Brookhaven Memorial Park
by Frederick J. Gillespie
At a meeting of the Brookhaven Hamlet Memorial Committee, on May 11, 1982, George Edward Waldron gave a brief talk on the history of the chain surrounding the memorial park on South Country Road and Fireplace Neck Road in the hamlet of Brookhaven.
Ed told us that the chain was salvaged from the "Bessie A. White," a ship, that had run aground between Smith Point and Old Inlet, across from Bellport, in the early 1900's.  Through further research I found out that the "Bessie A. White" ran aground on February 24, 1922 [actually 6 Feb 1922] off Smith Point.
It took about three days for Ed, his brother Charles, and Albert Rhodde to free the huge chains from the sand.  It was then taken across Fire Island on an old beach buggy and then across the bay on a small barge to the dock on Beaver Dam Road.  From there it was transferred to the park on South Country Road by truck.  This took place about 1932 or 1933.
The complete chain is about 300 feet long, composed of six different length chains.  One chain about 190 feet long is the largest.  The other parts of the chain are about 110 feet long.  The chains are held together by large bolts and supported by thirty four concrete posts.  Al Rhodde had the forms made for the concrete posts that support the chains.  After the posts were cast he then donated the forms to the county.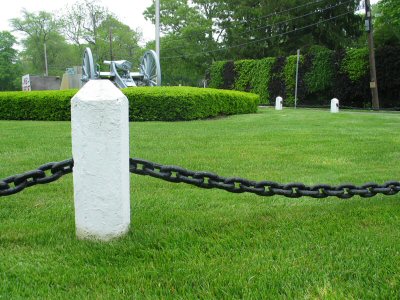 Although Al worked for the county at the time and Ed and Charles had a garage in town they donated their time for the project.
Respectfully submitted,
Frederick J. Gillespie
Some of the above information was taken from the minutes of the first meeting of the Brookhaven Hamlet Memorial Committee.  Other information was given by Charles Waldron and some was from my [Fred Gillespie's] personal knowledge.
More pictures of Valentine's Corner and the Memorial Park, including a close-up of the plaque