As sometimes happens, when one looks into one story, another more-or-less unrelated story emerges. In this case, while Dr. Richard Thomas was researching the Hawkins family cemetery in Brookhaven hamlet, the short article to the right was uncovered:
This led to several questions:
While the location of the Harrison estate was well, known, who was Colonel Green?
While the members of the Post family were well known, who was Frederick Post?
This following is the "story" as developed by Dr. Thomas.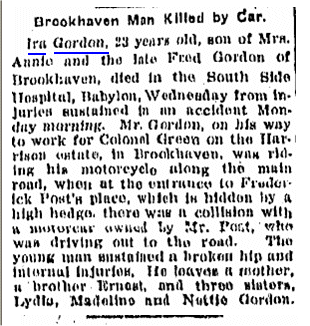 The Death of Ira Gordon, heir of Mrs. Emily O. Hawkins by Richard Thomas
First, the back story: Henrietta Green and her son Col. Edward Green
The Harrison estate on Beaver Dam Road, Brookhaven, NY was rented for the summer of 1920 by Col. Edward "Ned" Green, the son of the richest woman in the world, Henrietta "Hetty" Howland Robinson Green.
Col. Edward Green, son of the late Hetty Green, has leased the Harrison place on River Road [Beaver Dam Road], Brookhaven and will spend the season there.(Suffolk County News (Sayville), 18 Jun 1920, p. 6.)


Hetty's mother, Abby (Howland) Robinson, was constantly ill, so her father, Edward Robinson, performed most of the parental duties. At the age of six, Hetty was reading the financial columns to her father and was instructed by him on what it all meant. By the time she was 15, she knew more about how to make money on Wall Street than the men who had spent most of their lives trying to do it.
Upon her father's death, Hetty Robinson inherited most of the Howland fortune, $7.5 million dollars. Her maiden aunt controlled the rest, and when Aunt Sarah died and left her $2 million to New Bedford for libraries and school programs and to charities, Hetty challenged the will, and although not winning, did succeed in getting use of the income generated by the $2 million dollars until her death. The principal had to be held in trust until she died.
After the Civil War, the price of government bonds was depressed because of uncertainty in the cost of recovering from that war. Hetty had plenty of capital and invested heavily in US bonds and made $1.25 million in one year.
Hetty was generally not a speculator and did not look for a quick return. When asked how she made her fortune, she replied, "I buy cheap, and I sell dear.
When she read about how Chicago was rapidly expanding, she went to Illinois, determined where the boundaries of Chicago might extend in fifteen to twenty years, and bought up a great deal of property in that region while it was still cheap.
She studied the railroads and discovered that while the major railroads owned great expanses of their own track, there were many sections in the country where the railroads paid local companies to use their tracks. She determined where these small lengths of track existed that provided critical links in the systems of major carriers, then purchased them up, greatly raised the rates, and forced the railroads to buy back her railroads at a much increased price.
When she married at age 33, she insisted on a pre-nup agreement and made it be known that she would not cover her husband's debts. Despite that, an old respected financial house on Wall Street, John J. Cisco & Son, where Hetty had $550,000 stored, did make large loans to her husband, and when he couldn't pay them off, came calling on Hetty.
She would either have to bail them out or they would collapse. She let them collapse. Hetty removed what was left of her deposits from the institution and moved them to Chemical Bank. Even though it meant she would lose 25% of her deposits, Hetty decided that Cisco was not too big to fail, and she was not going to reward them for doing something that they had expressly promised not to do, loan money to her husband.
Along with what was left of her money in Cisco, she brought along, in a cab with two private detectives, millions of dollars of deposits to the Chemical Bank. In fact, it was more than the total of $23 million that Chemical Bank had on deposit at the time. The President of Chemical Bank met her at the door and offered her an office in the bank for her own use, but she preferred to use offices and rooms that happened to be empty so that no one would know exactly where she could be found, particularly tax collectors and lawyers. She hated lawyers, even her own. The bank assigned two young men to find which rooms Mrs. Green was using for the day and respond to her requests for information or for movement of funds.
She kicked her husband out of her house and never allowed him to return.
She was as miserly as her grandfather had been. When her son, Edward R. "Ned" Green, injured his knee sledding, she dressed him and herself in poor clothes and took him to the New York University Medical School charity ward to get free medical care. But she was recognized, so she said she would treat him herself and took him home.
The leg became infected and had to be amputated.
She taught Ned the basics of her conservative investment strategies by sending him to Texas in 1892 at age 25 to run the Texas-Midland railroad, a crucial 50-mile link in the Southern Pacific route run by Collis Potter Huntington

.
Hetty and Ned put the squeeze on Huntington by not only raising his rates but also finding out what banks he used for his loans. Hetty would then deposit a million or so in that bank, leave it long enough for the bank to have loaned most of it out, then threaten to withdraw it, so the bank would be forced to call in Huntington's loans.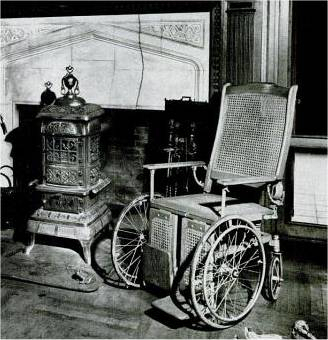 Colonel Green's wheel chair
Ned did not live frugally like his mother. He had a suite of rooms at a Dallas hotel. His mother feared that if Ned were to marry, the wife would squander the fortune she had accumulated. So Ned instead hired a "housekeeper," and, after he and his housekeeper moved to larger quarters, he decided to hire another housekeeper, one younger than the one he already had.
Ned soon extended his control into the political life of Texas and was made the chairman of the Texas Republican Party. It was while he was in Texas that he was given the honorific title of "Colonel" by the governor.
His aging mother finally persuaded him to return to New York, where he occupied 16 rooms of the Waldorf-Astoria. There he promoted his housekeeper to "confidential secretary" and his other housekeeper to "guest."
At the time of her death on 03 July 1916, Hetty Green had a net worth of $100 million to $200 million dollars (somewhere between $2 and $4 billion in today's dollars).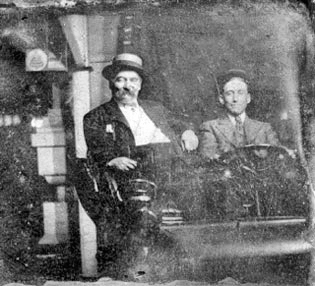 Colonel Edward Green in his car in Dallas,
the first gasoline-powered car to appear in that city.
Martha Howland
Another Howland relative, Martha Howland, purchased property on the north side of Beaver Dam Road nearly opposite the Harrison property,the William Brewster Rose property later known as the Ford estate. Martha had married Isaac Howland, who was a distant relative. When Isaac and Martha Howland purchased it, it included the farm behind our house (later owned by the Wellingtons). Martha was related to the ancestors of Hetty Green closely enough to inherit $12,000 upon Hetty Green's death. As far as I know, their ownership of the Brewster Rose property was unrelated to Colonel Green's leasing the Harrison place.
Emily O. (Green) Hawkins
The Azel Hawkins cemetery was reserved to the heirs and assigns of Mrs. Emily O. (Green) Hawkins (wife of George M. Hawkins). (No relationship between Emily O. Green and Colonel Edward Green has been established.)
George M. and Emily O. Hawkins had two children:
Eliza Matilda, born about 1865, and
Annie R., born about 1874.
[About 1885,] Eliza married Albert F. Perine, born about 1863, and moved to Brooklyn, where Albert worked in a jewelry store. Eliza and Albert had six children, only four of whom lived to adulthood;
Edith M., born about 1888,
George Albert, born 28 Aug 1893, [he married Bertha McKeown of Brookhaven hamlet]
William Freeman, born 09 Nov 1895, and
Aida M., born about 1898.
In about 1896, the second daughter, Annie R., married a local boy, Frederick B. "Fred" Gordon, born about 1874. He was the son of Sylvester Gordon, who was the son of Jeremiah Gordon, both residents of Fire Place. Their first son was born in Connecticut, but they appear to have resided in Brookhaven hamlet after 1898. Their children were:
Ira B., born 01 Aug 1897 in Connecticut,
Ernest Frederick, born 11 Apr 1899, died in San Diego in 1977,
Lydia D., born about 1904;
Madeline E., born about 1905; and
Antoinette A., "Nettie", born about 1910.
After 1900 the family lived in Brookhaven hamlet. Fred Gordon died sometime between 1910 and 1920.
Ira Gordon's Death
In July 1920, Fred and Annie's oldest son, Ira Gordon, died in a motorcycle accident.
BROOKHAVEN MAN KILLED BY AUTO
Ira Gordon, Motorcyclist, Struck by Kost's Car
Victim Survived Accident Two Days—
Coroner Trying to Place Responsibility.
Ira Gordon of Brookhaven, aged 23, died Wednesday morning in Babylon hospital from the effects of a collision between a motorcycle he was riding and an automobile owned and driven by Frederick Kost, a summer resident of Brookhaven, which occurred Monday morning near the latter's home on the Montauk Highway [Kost's home was actually on Beaver Dam Road].
Mr. Gordon was on his way to Colonel Green's, on the Harrison estate [about one half mile further east], where he was employed at the time of the fatal accident. He was passing the end of the driveway at Kost's place when Mr. Kost came out in his car and struck the motorcycle, forcing it across the road and throwing the rider heavily to the concrete roadway.
The front of the Kost place is lined with a tall hedge which obscures the view from the road into the driveway and vice versa, and motorcyclist and automobilist were unable to see each other until their machines were almost together. Mr. Gordon sustained a broken hip and internal injuries. He was rushed to the hospital and at first it appeared that he was doing as well as could be expected, but during Tuesday night he had a relapse.
The young man, who was well known in Brookhaven and the neighboring villages, was a son of Mrs. Annie Gordon and the late Fred Gordon. He leaves his mother, a brother, Ernest Gordon, and three sisters, the Misses Lydia, Madaline, and Nettie Gordon, all of Brookhaven.
Coroner Moore of Bay Shore called an inquest into the circumstances of the fatal accident Wednesday, but not much progress was made as through some misunderstanding Mr. Kost did not get word of the proceeding and was out of town. The examination has been postponed to next Monday.
The funeral is being held this afternoon, with service at the Patchogue Methodist church in charge of the Rev. Dr. William H. Barton and interment in the Yaphank cemetery.
Long Island Advance (Patchogue), 30 Jul 1920, page 1.