Click on image for enlarged view.
664
Robert (Robb) & Mary Lyons house
2-Historic
probably about 1970
Br01.3.1-S
Robert & Mary Lyons House
Arthur Ave (aka Cemetery Rd.) Brookhaven, NY
photos/lyons/LyonsHouseArthurAve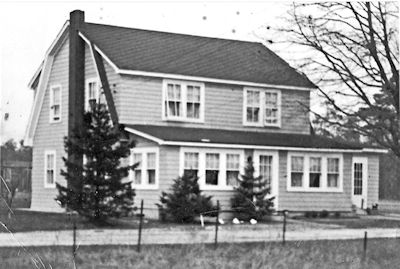 About 1919-1920, Robert (Robb) and Mary Finnerty Lyons moved from Brooklyn to Arthur Avenue (aka Cemetery road), Brookhaven hamlet, Suffolk County, NY. The original farm house was then extensively remodeled. "Robb built around the farm house to make a big 9 room house – 7 bedrooms, 2 baths (later), a huge living-dining room, kitchen, and a very large sun porch." Mary died in 1960 and Robert in 1968. The house was said to have been destroyed by fire on Memorial Day, 30 May 1970; no mention of the fire has been found in the Patchogue Advance.
07-02-2014 12:00:00