Click on image for enlarged view.
589
Fire Place Beach Club Boardwalk
2-Historic
abt 1960
Br01.6-S
Fire Place & Old Inlet Beach Clubs
Fire Island
© Marchall Bull
FirePlace_OldInlet_BeachClubs/FirePlaceBeachClubBoardwalkCirca1960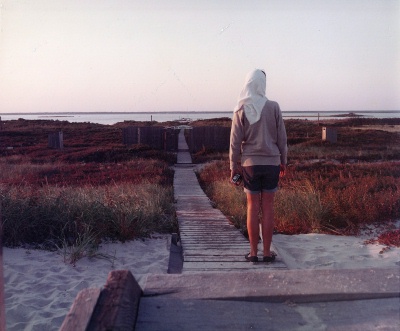 .. Looking across the Great South Bay toward Fire Place Neck (Brookhaven Hamlet).
Seen more-or-less half-way down the boarewalk is where the old "Burma Road" crossed. This mostly unpaved road went the entire length of Fire Island, and would have been used by vehicles when travel along the beach was impossible. Since most of Fire Island is now designated as a "more-or-less" wilderness area, much of the road today has become overgrown and barely passeable.
05-28-2011 12:00:00
590
Fire Place Beach Club Dock
2-Historic
about 1960
Br01.6-S
Fire Place & Old Inlet Beach Clubs
Fire Island
© Marshall Bull
FirePlace_OldInlet_BeachClubs/FirePlaceBeachClubDock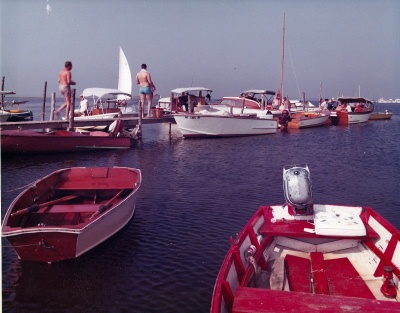 05-28-2011 12:00:00
592
Old Inlet Beach Club
2-Historic
1920-1930
Br01.6-S
Fire Place & Old Inlet Beach Clubs
Fire Island
Brookhaven Town Historian's Office
FirePlace_OldInlet_BeachClubs/oldinletbeachclub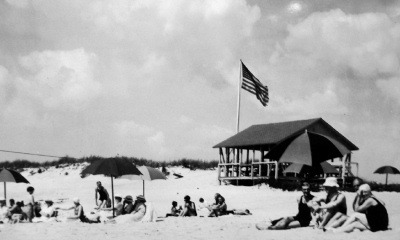 05-28-2011 12:00:00
593
Everett Shinn & William Glackens
2-Historic
1911
Br01.6-S
Fire Place & Old Inlet Beach Clubs
Fire Island
© Victor Principe
FirePlace_OldInlet_BeachClubs/glackensoldinletclub1911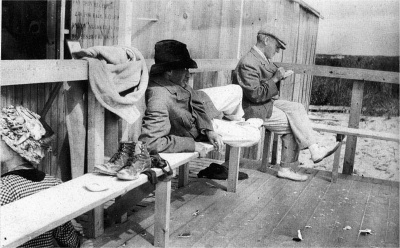 ..Ashcan School artists at the Old Inlet Club in 1911. Head visible at left is Florence Scovel Shinn (wife of Everett Shinn). In middle is Everett Shinn. At right is William Glackens. Glackens summered in Bellport and Brookhaven for several years.
From Bellport and Brookhaven by Victor Principe
05-28-2011 12:00:00