Click on image for enlarged view.
414
Barteau Farm Buildings, Yaphank Creek
2-Historic
Believed to be about 1925
Br03.1-S
Site of Barteau Farm
Little Neck, Brookhaven, NY
Post-Morrow Foundation
Marty van Lith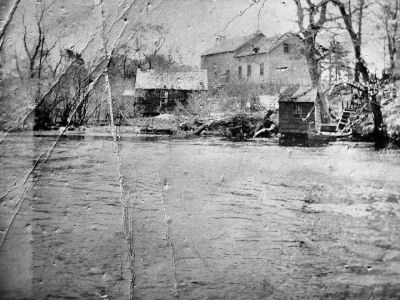 This is believed to be of the Barteau Farm complex on the lagoon at the end of Yaphank Creek where it empties into the Carman's River. The lagoon or short canal was dredged by the Barteau's about 1811 when the road, now known as Barto road, was cut through, so that big boats and barges could get in. Before the advent of the railroad, it was a loading point for commodities (mostly lumber) coming out of the South Haven and Yaphank Mills, and an incoming port for coal. Barteau apparently was the coal dealer for the area at one time.

The picture was probably taken about the time Charles W. Nelson purchased the Barteau Farm in 1925, ending nearly two centuries of Barteau ownership.
07-03-2007 12:00:00
420
Aerial View of Little Neck
2-Historic
1930
Br03.1-S
Site of Barteau Farm
Little Neck, Brookhaven, NY
Uncertain/Van Lith
maps/images/1930LittleNeckAerial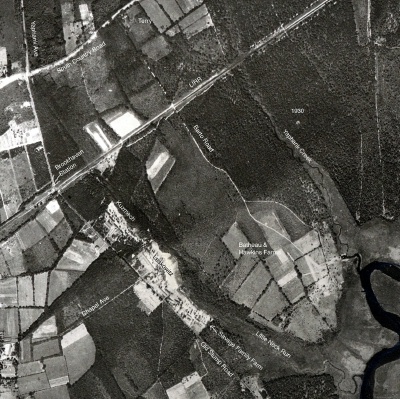 High altitude aerial view of Little Neck, Brookhaven, Long Island, NY

Little Neck is bounded by Yaphank Creek on the east (right), the Carman's River on the south, and Little Neck Run on the west (left).

The road through the middle is Old Barto Road. The Hawkins farm was on the west side of the neck, the Barteau farm was on the east.

At the south end of Yaphank Creek can be seen the lagoon or canal dredged by the Barteau's as a port.

This picture was taken five years after the Barteau farm was sold.
07-05-2007 12:00:00