Click on image for enlarged view.
456
John Ghosio Vegetable Stand
1-Modern
1988
Br04.4-S
Ghosio Vegatable Stand
Montauk Highway
Marty Van Lith
JohnVegatableMan2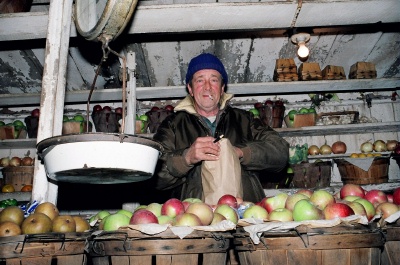 "John The Vegetable Man" ran the classy vegetable stand next to the Post office where the Superior Officers Association building is today. When he was younger he had a vegetable garden behind the stand. His parents started the business, such that it was, in 1949 on Snow's Corner and moved it to PO location sometime in the 50s where John continued running it until he died, shortly after Thanksgiving in 1990 (I think, can't find his obit). I remember he told me that this was his only job, he essentially did nothing during the winter months.
When the vegetable garden behind the stand became overgrown I asked if I could have some of the little cedar trees to build a hedge around my house, which I did with 75 of his trees. I took these pictures of him in Nov 1988 when I was transplanting the trees (I paid him with a couple of six packs).
Marty Van Lith
28 Jan 2008
08-19-2008 12:00:00