Click on image for enlarged view.
288
Former Gerard House
2-Historic
January 1890
Br07.0-S
Gerard House (now destroyed)
N/S South Country Rd. west of Beaver Dam Creek
Post-Morrow
RG3 Series 1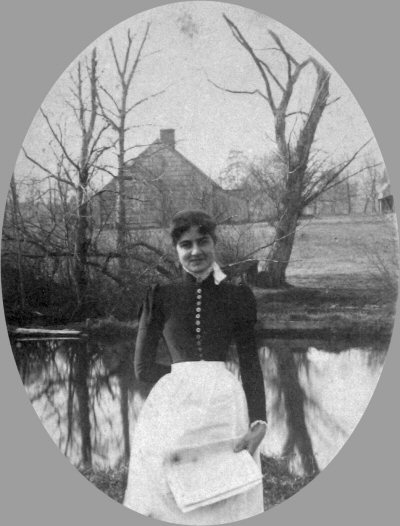 Woman is Nettie Furman Valentine. In background is "Old Gerard House." Immediately behind Nettie is the "Lower" trout pond on Beaver Dam Creek. Notice how open the landscape is as compared to today -- then the land was all tilled farmland. On back of photograph: "Old Gerard house. This is only picture I know of showing home where Osborne Shaw's grandmother, Armanda Gerard, was born. EVB" The Gerard homestead and farm was on the west side of Beaver Dam Creek. The camera is therefore pointed west. Much of the site later was incorporated into the larger Andrews farm.
10-02-2008 12:00:00