Click on image for enlarged view.
308
Cottage
1-Modern
16 Jun 2004
Br18B.1-S
George Bishop Cottage II
324 Beaver Dam Rd @ Burnett Lane
Deitz
photos/040616/IMG_1157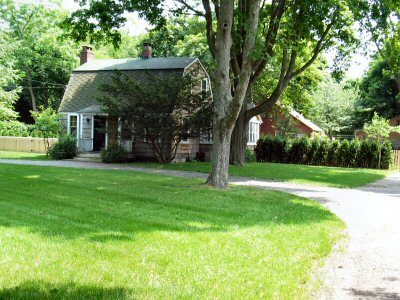 This small Gambrel roofed cottage sits on a modest site on the southwest corner of Beaver Dam Rd. and Burnett Lane. It is one of my favorite little homes in all of Brookhaven Hamlet. Probably built in the early 20th century, perhaps as a summer cottage, it nicely balances the more elegant and larger homes along Beaverdam Road. In recent times, only huge (and usually not very pleasing) homes for the wealthy have been built in much of the Hamlet – unintended consequences of zoning changes emphasizing large 1-4 acre lots made over the last couple of decades. In my view, the historic charm of Brookhaven Hamlet was its naturally evolved mix of various styles and sizes of homes in a semi-rural environment, where families of different socio-economic conditions lived together.

While there are a few homes remaining in the Hamlet of this ilk, few are so prominent, architecturally pleasing, and essential to the character of the neighborhood. Overall they are an endangered species. There have been several recent attempts to get zoning changes which would turn this small gem into a large two-story structure, which will not only crowd the lot but will forever change the historic character of the neighborhood.

In this picture, Burnett Lane is to the left. The red structure seen in the background is the Albin-Bishop house at 6 Burnett Lane (Br18B.2-S)
594
Modern Bishop Cottage
1-Modern
16 May 2006
Br18B.1-S
George Bishop Cottage II
324 Beaver Dam Rd @ Burnett Lane
060516/2006-05-16-006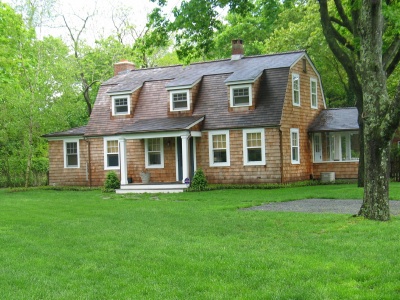 This photo shows the orginally small Bishop Cottage after the additions of 2004.
07-26-2011 12:00:00