Click on image for enlarged view.
688
Brookhaven Chalet
1-Modern
2015
Br23.051-S
51 Hawkins Lane
51 Hawkins Lane
Douglas Elliman
51HawkinsLane\51HawkinsLane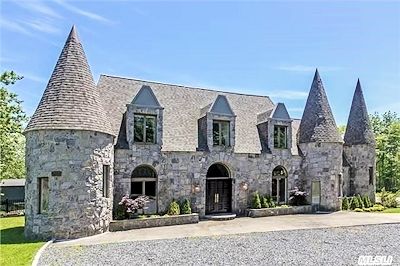 Hidden away in Brookhaven Hamlet is this interesting house. It is situated at the south end of Hawkins Lane down near the marshes of the Great South Bay. Hawkins Lane is a discontinuous street, the southern end is reached from Bond lane.
Real estate listing by Douglas Elliman, 2015: ".. Completely Remodeled Castle Like Colonial On 9.75 Acres, Redone Inside And Out. Nestled On Private Road. This 11 Room, 5 Bdrm, 2.5 Bth Luxurious Colonial Boasts European Living Fit For A King. Dual Staircase In Eh, Marble Flrs, Marble Bths, Ss Appiances, French Drs, Wood Flrs And Much More. A True Turn Key." Listing price: $949,000.
The history of this house has been lost to the mists of time. Many local residents believe it is proof-positive of 16th century French colonization of Long Island as they extended their exploration south along the east coast from Quebec. Inexplicably it is not mentioned in any of the early Town of Brookhaven records. Perhaps the English, who were at war with the French at the time, did not want to provide any evidence of a French claim to Long Island. The stone is believed to be from the famous Fire Place stone quarry, remnants of which can be seen at the Beaver Dam Road kettle hole near the intersection with Mott Lane.
11-12-2015 12:00:00
691
Brookhaven Castle
1-Modern
2015
Br23.051-S
51 Hawkins Lane
51 Hawkins Lane
Douglas Elliman
51HawkinsLane\51HawkinsLane-013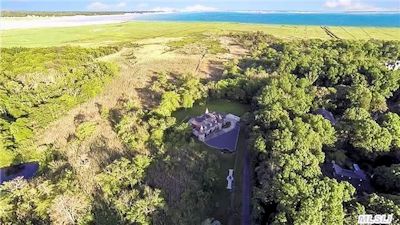 11-12-2015 12:00:00