Click on image for enlarged view.
194
1873 Brookhaven School
4-Post Card
1902
Br31.1-S
Old 1873 Brookhaven School
Fire Place Neck Rd.
Post-Morrow
RG1 Series 10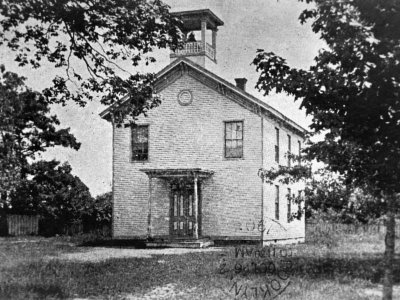 Fire Place had it's first school in 1802. It was on the opposite (west) side of Fire Place Neck Road from the present elementary school. In 1815, a new school was built. And in 1855, the 1815 building was replaced by a third schoolhouse.

In 1873, the 1855 school house was replaced by the building pictured here -- the fourth schoolhouse on Fire Place Neck Road. The 1855 building became an addition to the Henry Egbert Hawkins (now Watson) house at 310 Beaver Dam Road (Br22).

Robert Starke reports: "… for my first school years I went to the schoolhouse here on Fire Place Neck Road. The old schoolhouse was where the current elementary school is today, but was an old wooden building, two stories, the ground floor had four classes and the upstairs had the other four. Only three people ran the school, two teachers and a custodian."

The 1873 building lasted as a schoolhouse until 1927, when it was replaced by the present building (see Br31) – the fifth schoolhouse on Fire Place Neck Road. The 1873 building was used for a short while for the Brookhaven Free Library, but was soon floated to Bellport where it became a residence at 40 Thorn Hedge Road.

Sources:
Post card from "Early Photographs of the Hamlet of Brookhaven collected by George Perley Morse."
Schools history from Bigelow (p. 25) and Principe (p. 105). Morse comments: "Brookhaven School. Built about 1874. Picture taken 1902. "Located near present school on Fire Place Neck Road. Previous school on the same site was one room and was sold for $88, moved to Beaver Dam Road and is now the west wing of the E.N. Potter house (now Watson house, Br22). The first school built in 1803 was on the opposite side of Fire Place Neck Road just south of the Miller barns [Br30C] and sold for $44."
01-17-2009 12:00:00
333
1924 Primary School Roster
2-Historic
Sep 1924
Br31.1-S
Old 1873 Brookhaven School
Fire Place Neck Rd.
Van Field
photos/VanField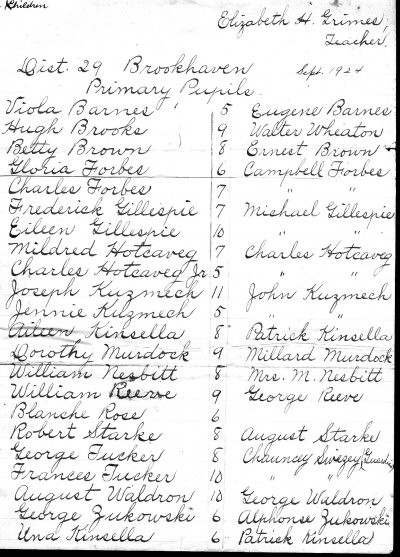 This is the school roster for the Primary Grades in September 1924. This roster, and the one that follows, were found between the walls of a home in Manor undergoing renovation.