Click on image for enlarged view.
596
Cottage, west façade
1-Modern
2004
Br32A.13-S
Corwin/Bishop/Cox Cottage
13 Locust road
Jayme Breshchard
brechard/040609/Locust_Road_13_SW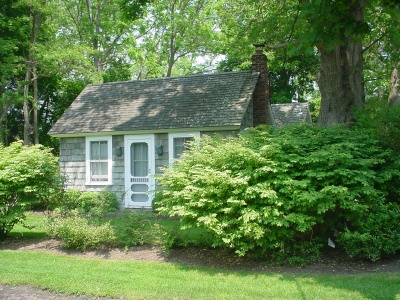 The street side (west façade).
07-28-2011 12:00:00
597
Cottage & Bishop Family
2-Historic
abt 1928
Br32A.13-S
Corwin/Bishop/Cox Cottage
13 Locust road
Linda Cox
breschard/040609/Locust_Road_13_ca.1928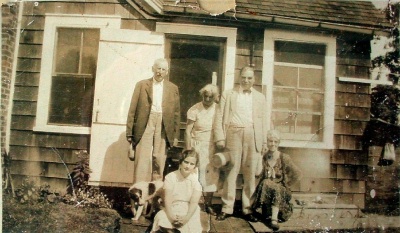 This 1928 picture of the H. Corwin/G. Bishop/Cox Cottage appears in a report prepared by Jayme Breschard as a part of her South Shore Estuary Survey conducted in the Summer of 2004. The original photograph is in the possession of Linda Cox. Jayme Breschard identifies it as of the west façade, but it is actually of the south façade. The small board portruding from the right wall has been maintained by the current owners. In addition, the center door has been removed, and the right-side window has been replaced by a new door. An addition has also been added to the right.
The picture is thought to be of the George Bishop family. If taken in 1928, the property at 13 Locust road, Brookhaven, NY would have been in their possession. They were using the cottage as their summer retreat following the disastrous fire which destroyed their Beaver Dam road summer home during the summer of 1927. Harvey Corwin, who built the small cottage, is said to have died about 1924. The Bishops returned to a new cottage built on the Beaver Dam road site in 1930, although the Locust road site remained in the family until the mid-1970s, when it was sold to the Coxes.
The original photograph did not identify the people. Most likely, George Bishop (about aged 74) is standing to the left, with his wife Elizabeth standing next to him. Others in the picture are likely family members—some have suggested George Maynard Bishop, his wife Wilhelmina and their daughter Wilhelmina.
07-28-2011 12:00:00