Click on image for enlarged view.
602
Wallace Swezey & Family
2-Historic
abt 1903
Br36.175-S
Wallace Swezey House
175 Old Stump Rd.
Meg Koch/Allen Keene Collection
swezey/wallace_swezey_house_and_family_bw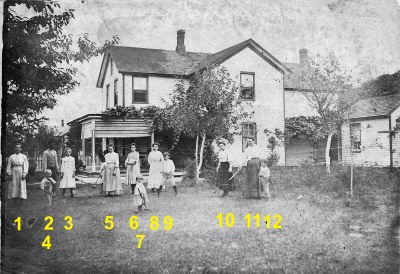 Based on the estimated age of some of the children, this picture of the house and family is thought to be about 1903. The verso contains identification of the people by an unknown hand. These identifications are in some cases difficult to read:
1. Lottie [Swezey]; 2. Wallace [Swezey]; 3. Emma [Swezey]; 4. Fred [Fred DeWitt Swezey]; 5. Addie [Demange Swezey]; 6. Unidentified, perhaps a boarder; 7. Leila [Swezey]; 8. Lottie Meyer (or "Dreyer"), perhaps a boarder; 9. Unidentified boy; 10. Celestine [Swezey]; 11. Flora? [Swezey], or perhaps "Mrs. Borger"; 12. Unidentified boy.
08-17-2011 12:00:00