Click on image for enlarged view.
325
Tom Poole House - West Façade
1-Modern
14 Jul 2004
Br36.187-S
Tom Poole House
187 Old Stump Rd.
Jayme Breschard
040714/187 Old Stump Road W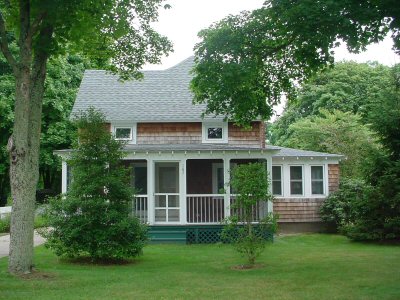 According to an interview with current Bellport Village Trustee, Robert H. Lyons III, Tom Poole was a bayman who lived in the building presently at 187 Old Stump Road. Mr. Lyons believes current homeowner, Mrs. Margaret S. [Meg] Koch, is the granddaughter of Tom Poole and uses the building as a summer home.
Thomas Alexander Poole was born April 27, 1876 in Norfolk City, Virginia. He married Ada Celestine Swezey on June 16, 1906 and together had one daughter, Shirley Poole*. Thomas Alexander Poole died on November 21, 1965 in Yaphank, New York.
From: Jayme Breschard, 'South Shore Estuary Survey,' Summer 2004
08-18-2011 12:00:00