IT SEEMS THAT YOU CAN ALWAYS LEARN SOMETHING NEW ABOUT "OLD MASTIC"
September 24, 2009 :
I have mentioned more than once, through the past decade, on many pages throughout this website, that even though some history books, postcards and even real estate sales ads claimed it to be a fact ,

The Truth Is General Nathaniel Woodhull
NEVER SET FOOT IN THE HOUSE THAT BORE HIS NAME
The Woodhull mansion as it was known, was located on Washington Drive & Corn Court, just a stones throw from the Woodhull graveyard. This house was part of the initial purchase of land that was turned into the first section of Mastic Beach in the spring of 1926. The reason the good General never set foot in this house is very simple. His actual home burned to the ground on April 5, 1784, about 8 years after he died on September 20, 1776 of wounds he received when he was captured after the Battle of Long Island a month earlier .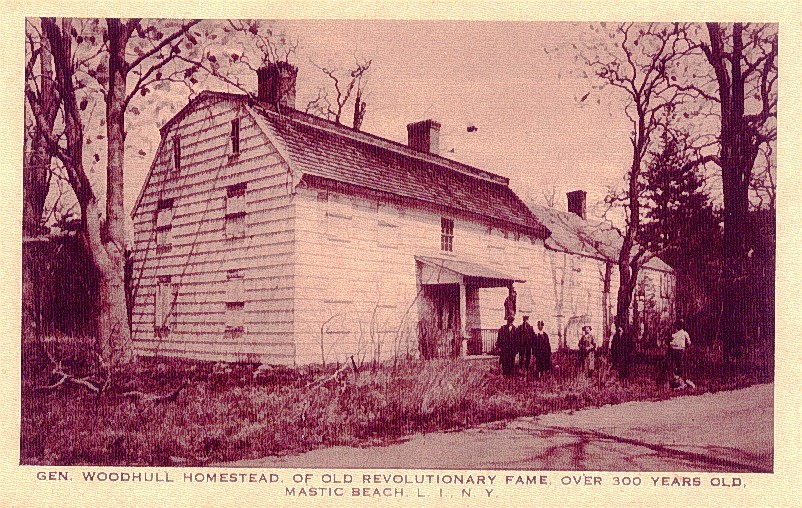 ONE OF THE MANY MISTAKEN MASTIC BEACH POST CARDS FROM THE 1920's & 30's
This second colonial era Woodhull home shown here (one that the Generals widow, Ruth Floyd Woodhull & her daughter, Elizabeth Woodhull Smith did live in) is pictured from both sides and ends and in various states of condition on several pages of this website that you can view in the links below. There is even an eyewitness account of when it was torn down for no good reason, ironically while the town of Mastic Beach was honoring the General for the first time at his grave side on Memorial Day of 1938.
That said, I just assumed that the Woodhull family replacement house, was built on the same spot or very near it ……..
SILLY ME WHAT WAS I THINKING ???
AND SO WITH THAT, IT NOW SEEMS ALMOST NORMAL, THAT I FIND OUT ON THE VERY WEEK THAT HE DIED, 333 YEARS AGO, EXACTLY WHERE GENERAL WOODHULL LIVED !
I have briefly mentioned a few times now, and have displayed a few select relevant excerpts here and there, that this past summer, I received photo copies of the Lawrence Estate Journals dated from 1890's – 1910. These personal journals were kept by members of Woodhull, Nicoll and Lawrence family who lived in the Woodhull mansion all through the 19th century. They are archived at the William Floyd Estate and I have been fortunate through the courtesy of museum curator Steve Czarnieki and the dedicated photo efforts of my Brookhaven Historian bud and former Floyd '64 classmate, Marty Van Lith, to be able to use information I have deciphered in them for my " The Mastics from Blueblood to Bluecollar" book .
Decipher is the key with these journals, as they are primarily daily diaries of their lives at the time and were probably never meant to be read for anyone outside the immediate family. There are many abbreviations of names in the journals but none more prominent than "B" , who I have figured out must be Elizabeth Woodhull Lawrence 1858 – 1919 aka Mrs. J. B. Lawrence, whose name in that configuration is all over early 20th century Mastic property maps. It is also evident from just scanning through what sometimes appears to be quite cryptic passages, that the info would be quite clear, had one only lived there during the era that they were written. That said, if I didn't have a good solid decade of studying Mastic history under my belt, the Lawrence Estate journals as written would not make too much sense.
In my initial readings, I have run across several references to the "old days" and the General's house, but still assumed it was located at or near the location of the "new" post fire home. That all changed with this letter I found this week, in an issue of the Long Island Forum, a historical journal that was published starting in 1938 ( the year the Woodhull Mansion was torn down ) through about 2003. The letter was written by noted Brookhaven historian,and LI Forum editor, Chester G. Osborne. Here was Chester correcting almost 50 years ago, that the Woodhull Mansion was never the General's home… but I knew that…. what I didn't know however was that "B" (Betsy) once told a Mrs. Lillian Raynor of the DAR, where her great grandfather's house was located and that Mrs. Raynor, used the new grid like streets of Mastic Beach in the 1930's to further pinpoint that location in a speech she gave almost 80 years ago.

A few small changes since this letter was written. The exact date the General's house did burn (April 5, 1784) I have found to be documented in several places, including the Lawrence Estate Journals . What I didn't know heretofore, but long suspected was that there was a portrait of General Woodhull, but that it perished in that fire.
And speaking of smoke, here's a piece of real irony, I recently discovered:
Richard Floyd's wife, Arrabella, who was by marriage General Woodhull's cousin and neighbor from Pattersquas Farm, just on the other side of Pattersquash Creek, had brought many of her valuables and Floyd family papers just after the Revolutionary war ended, to Ruth the General's widow at her original Woodhull house for safe keeping, as Arrabella feared her home was in danger of being torched by the newly victorius and vengeance seeking rebels. Richard her Loyalist husband, was now in exile in New Brunswick, Canada. Arrabella may of even stayed with the Woodhulls for a time after her home was confiscated and sold. She is buried in the Woodhull family graveyard, That historic 1760 era Richard Floyd mansion, which became the Bayview Hospital in 1950, survived well past both Woodhull homes until 1985 when a couple of bored local teenagers thought it would be fun to torch it.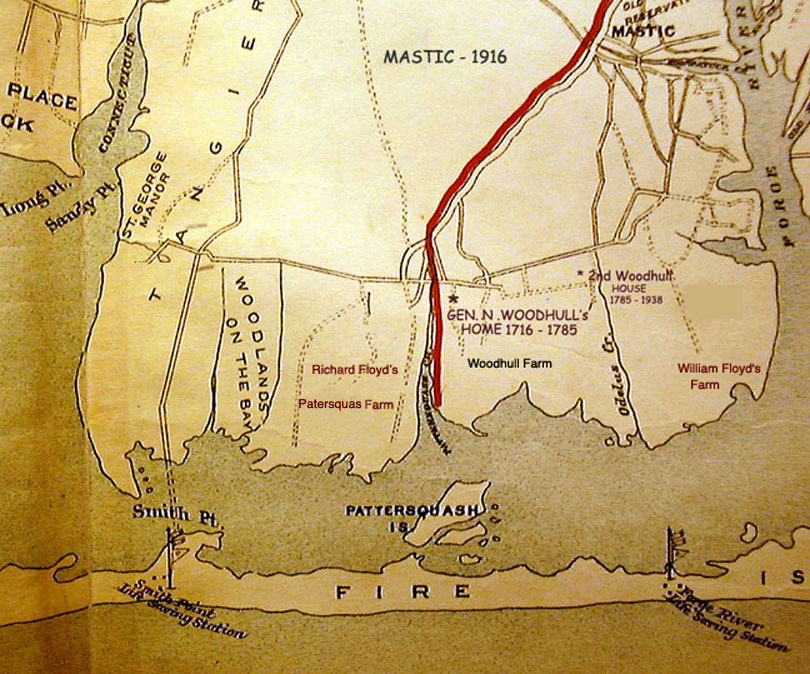 ABOVE : USING A MASTIC MAP FROM 1916 WITH WOODHULL & FLOYD 1700's FARM
LOCATIONS
RIGHT: CLOSEUP DETAIL OF MAP OF SECTION THREE IN THE BRAND NEW TOWN OF MASTIC BEACH 1926
I HAVE ERASED THE 20 x 100 FOOT BUILDING PLOTS TO SHOW THE LOCATION OF THE GENERAL's HOMESTEAD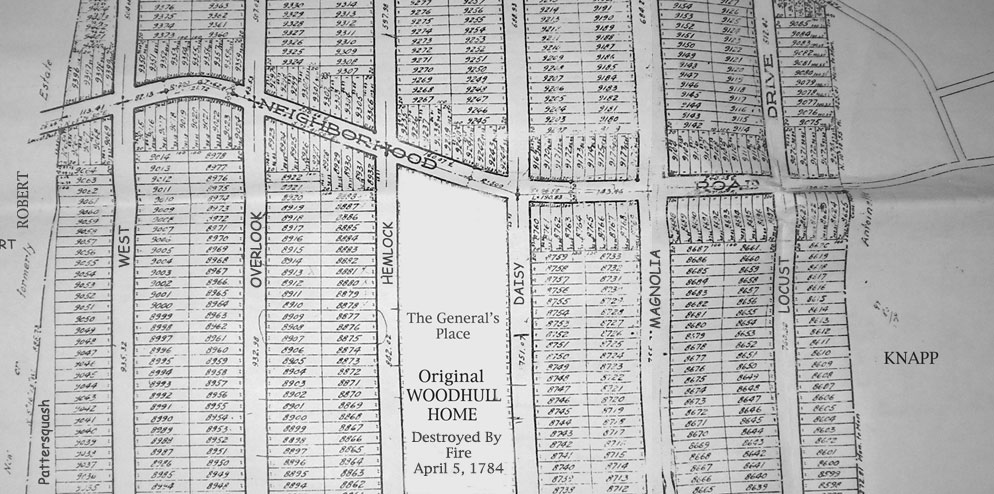 PERHAPS ONE OF THE MASTIC BEACH CIVIC GROUPS COULD PLACE A SMALL MARKER ON THE SOUTH SIDE OF NEIGHBORHOOD ROAD ? MIDWAY BETWEEN HEMLOCK & DAISY DRIVES.
IT WOULD BE A NICE ADDED TOUCH , AFTER ALL YOU CAN'T MAKE HISTORY WHEN YOUR DEAD!