Sunday News, October 14, 1973
Mechanics of 50 Years Hanging Up the Wrench
The theory held by some long-experienced motorists that old-time cars were more formidable than those emerging from today's assembly lines is just not so.
Take it from the Waldron brothers, who are retiring after a half century of service-station operation in Brookhaven.
As the dean of the firm, Edward, 68, put it, "The old-time cars were good and got you to where you were going, but where could you find a car in the early days thaqt would travel 100,000 miles without a motor overhaul, or as many as 50,000 miles without having to reline the breaks?"
"And let's not forget," he added, "that a trip from Brookhaven to Jamaica, for example, could mean as many as five or six flat tires, which meant that cars had to be equipped with a pump, tire iron, and repair kit with enough blowout patches, because there were few service stations then."
Same Old Hot Rods
In another comparison, he said, "Today's hot rods are no worse then ours were in our younger days. The only difference is that we didn't have the horsepower and the good roads, and there weren't as many cars then."
At ages 18 and 17, respectively, Edward and Arthur Waldron launched this enterprise in 1923 on Beaver Court, Brookhaven, using a former World War I barracks they had bought when the training camp in nearby Upton was dismantled.
Charles, who joined the firm in 1930, at age 20, later became the mainstay for several years during Edward's World War II service with the Air Force.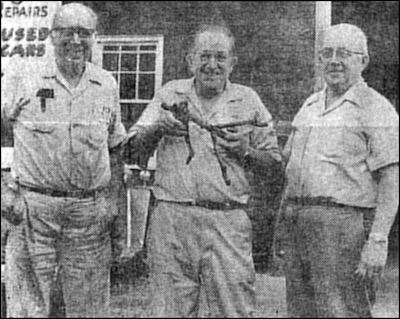 "The Waldron brothers, outside the garage, are (left to right) Edward (George Edward), Charles and Arthur. Edward (sic) [Charles] holds old-style tire spreader."
Arthur Was a Cop
Meanwhile, in 1934, Arthur entered police work, starting as a Brookhaven Town patrolman and retiring 34 years later as a Suffolk lieutenant after a colorful career. He played a major role in the Tiernan murder case.
Eventually, the station was moved to its present site within the triangle where Montauk Highway and South Country Road converge.
The building is chock full of nostalgia, beginning with the mechanical business involved putting speed bands on Model T transmissions. Edward said, "One thing you learned very early was that if you accidentally dropped a nut into the transmission, you'd have to pull the whole thing apart."
Many of the cars they worked on in the early days are seen now only in museums, they said. These include the Star, Durant, Lexington, Doris, Dort, Anderson, Willlys-Knight, Cole Arrow, Pierce Arrow, Lafayette, White Steamer, Stevens-Duryea and the E.M.F., predecessor of the Stude- …(sic).
" A local clergyman had a baker. ..(sic)
Pathfinder V-12, is the only one of its kind we ever saw," Edward recalled, adding, "and we also worked on a 1913 Cadillac, which had an overdrive that was controlled by an electric shift on the dashboard."
Through the years, several allied lines were added to the station's operation. One was a local taxi service. Another was a freight carting service, such as feed to nearby duck farms, and lumber to Newey's shipyard. "The Long Island Railroad handled lots of freight then, " one brother said.
The brothers' ingenuity extended far beyond auto repairs. They built a fire truck for the Hampton Bay vamps, and they solved a serious problem of a local duck farmer, whose employees in one year sustained …(sic) caused by pushing heavy feed cars that ran on a narrow-gauge tracks through the farm.
The Waldrons designed and built a four-wheel drive engine to pull the feed cars, and there were no more ruptures reported, Edward said.
The Waldrons helped organize the Brookhaven Volunteer Fire Department, in which Edward is the only active charter member. Their father, George, was the department's first chief, a post he held for 12 years. Edward and Charles have since served as chiefs.
For many years at the start, the Waldron station was the only one in an eight-mile stretch along Montauk Highway, which carried all the South Shore traffic.
Clipping provided by Linda Patanjo, Bellport NY, May 2014.