The following notes on the Hotchkin family is based on on email prepared by Richard A.. Thomas, 5 March 2012.  Mabel Hotchkin was of particular interest at this time as she was one of the founding members of the Fire Place Literary Club, which was a forerunner of the Brookhaven Free Library.  In 2012, the Library celebrates its 100th anniversary.
The Hotchkin's South Haven home was the old Robert Carman house on South Country Road, South Haven, NY, Site ID SH08.
Hotchkin Family of South Haven and New York City
"Mabel Lord Hall Hotchkiss" was easy to find. With a name like that, how could she not be?
Well, there is a little problem, she's in Who's Who as being married to Walter Hotchkin rather than Walter Hotchkiss.
Perhaps her handwriting wasn't very neat.
She married the banker Walter B. Hotchkin on 15 Apr 1903 in New York City.
Her husband is in Who's Who in New York — A Biographical Dictionary of Prominent Citizens of New York City and State, Issue 7, 1917-1918.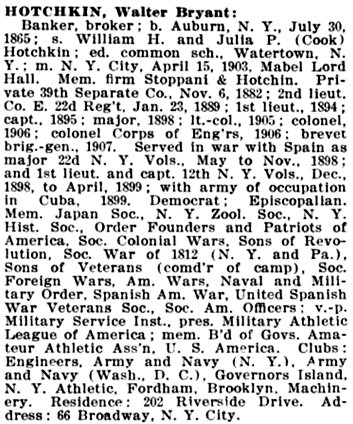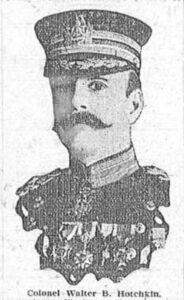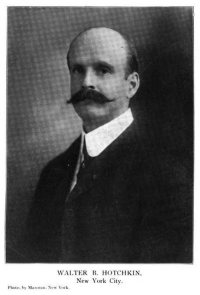 That edition of Who's Who must just have copied previous editions since he had long been dead by the time it was published.
Here's a picture of Mabel's husband:
Col Hotchkin and his 22nd Regiment, Corps of Engineers, N.G.N.Y., held a Church parade on Memorial Sunday on Governor's Island in 1913, as they had been doing annually for several years.
Walter B. Hotchkin was a "successful American."
I know that because he was featured in the magazine, The Successful American. A Monthly Illustrated Magazine for the Home Circle and the Business Office, Vol. VIII., No. 6, December 1903. $3 per year; single copies, 25 cents.
The article included a photo. He's lost quite a bit of hair since his military days, but he still handsomer than most of the men pictured in The Successful American.
He's in the same issue as Harlan Woodbury Whipple. Too bad Mr. Whipple doesn't have a Brookhaven connection. He has such an interesting name.
Mabel's mother, Emma I. Lord, wife of Henry B. Hall, died 06 Jan 1910 at her residence on 120 W 183d St., according to the NY Times.
The Hotckins didn't really live in Brookhaven, they lived in South Haven, where they must have subscribed to the Farm Journal, as I know from this rather odd letter Mabel sent to the Farm Journal which was published in November 1911 (on p. 577).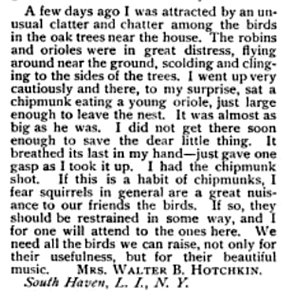 (They may, of course, have lived in both Brookhaven and South Haven at one time or another.)
Walter may not have been so much a "successful American" as the editors of the magazine had thought.
Stoppani & Hotchkin, as a brokerage firm, had customers who purchased stocks on margin and pledged other stocks as collateral. At the same time Stoppani & Hotchkin had an agreement with the Mechanics and Metals National Bank that the bank would give them loans and all the stocks they had from customers could be used to repay those loans if they were not repaid in a timely matter. On 18 May 1914, the firm was indebted to the bank in the sum of $49,000, and weren't able to repay it.
The New York Times article on their declaration of bankruptcy is attached.
It turned out that the Stoppani & Hotchkin firm had three private accounts, Nos. 10, 20, and 30, in which they did their own speculative stock purchases on margin. They seem to have been less strict with themselves in requiring collateral for these margin purchases than they were with their customers. So when they had to make good on some bad calls, they used the collateral deposited with them by their customers.
On 09 Jun 1914, it was discovered that $300,000 was missing.
(Reminds me of a certain hedge fund named MF Global run by a former governor and senator of New Jersey, Jon Corzine, who had no idea where $1.2 billion dollars of customers' money could possibly have gone. How much is 300,000 1914 dollars worth in 2011 dollars?
I just looked it up at http://www.measuringworth.com/uscompare/relativevalue.php, and its less than $119 million, less than a tenth of the results of Mr. Corzine's financial wizardry.)
Walter B. Hotchkin was arrested on a charge of grand larceny. See attached.
The chief clerk, who had been keeping the firm's books for 13 years, testified that he never "struck a balance" so he had no idea whether the firm was making or losing money. I guess that's one way of avoiding bad news.
But there was also testimony that it was Stoppani rather than Hotchkin who was doing all the speculating with customer's money:
"The speculation . . ., he asserted, was done on the order of either Stoppani or Hotchkin. . . . Asked which of the two members did most of the ordering for the speculative accounts, he said that Stoppani generally gave the orders, and that Hotchkin did not seem to do much in the office. Hotchkin went on the floor of the Exchange in the morning and returned later for only a short time."
In October 1914, his firm was indicted by a Federal Grand Jury in Brooklyn. From The Financial World, p. 15, 03 Oct 1914.
HOTCHKIN.—At Presbyterian Hospital, Tuesday, June 6, of cancer of the liver. Walter Bryant, son of Julia Pratt Cook and the late William H. Hotchkin and beloved husband of Mabel Lord Hall. In his 51st year. Funeral service at 22d Regiment Armory, 168th St. and Fort Washington Av., on Sunday, at 2 o'clock.
Mabel died at age 57.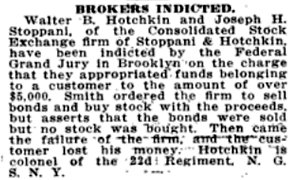 From: http://hotchkinfamilyhistory.com/p205.htm
Walter and Mabel Lord Hall were married by Rev. Edward Horace Cleveland at Christ Church in the borough of Manhattan on 15 Apr 1903. She was the daughter of Henry Bryan Hall and Emma Ida Lord and had not been previously married. It is possible that Walter's first wife Mary C. Fay died by suicide as her death certificate says death by "poisoning by CO [carbon monoxide poisoning]." She was found dead at her home, 205 W. 142nd St., NYC on 26 September 1902. Walter's death certificate says that he was in the restaurant business at the time of his death. He died at Presbyterian Hospital on 6 Jun 1916 at 8:00 pm of liver problems and was buried at Arlington National Cemetery in Arlington, VA.
F, (16 July 1867 – 9 March 1925)
Mabel Lord Hall
b. 16 Jul 1867
d. 9 Mar 1925
Mabel Lord Hall was born on 16 July 1867 at New York City, New York County, NY, USA.1 She was the daughter of Henry Bryant Hall Jr. and Emma Ida Lord. She married Walter Bryant Hotchkin Col. at New York City, New York County, NY, on 15 April 1903.2,3,4 Mabel Lord Hall appeared on the census of 1920 at Suffolk County, NY, USA. The census lists the family as: Mabel Hotchkin, age 50, b NY; father Harry B. Hall, age 83, b Eng; Sister Florence Warner, age 44, b NY; niece Helen Warner, age 8, b NY.
She resided at Brookhaven, Suffolk County, NY, USA, in 1925. She died on 9 March 1925 at New York City, New York County, NY, at age 57.
Death announced on 10 March 1925 in the New York Times.
Richard